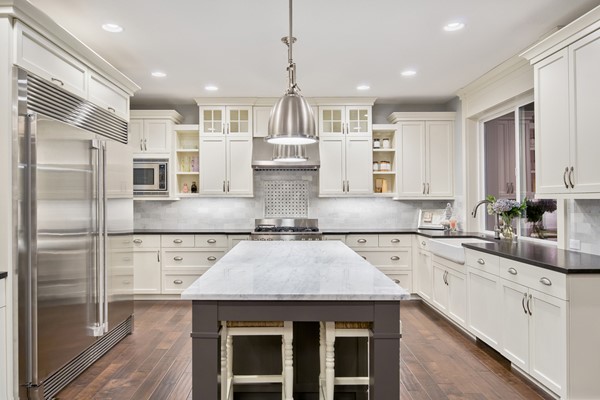 Modern kitchen designs can make a huge difference when setting the value of your home. Even if you might not be planning to sell your home right away, your kitchen might deserve a timeless makeover so that it's always ready for the market. Before you get started on the changes, you'll need to come up with a plan. Some kitchen changes are easy, but others will take your cooking areas down for a while, so they'll require more planning.
Choosing the Right Color
Look through any design magazine, and the first thing you'll notice is white. Due to its ability to reflect light, white can make small kitchens look more substantial, which is always a selling point. Don't think you're stuck with just one color either. There are dozens, if not hundreds of shades of white and you can mix them together to create a multi-dimensional look. It's also easy to match with your appliances since no matter what you're willing to spend, all appliances come in at least one shade of white.
Timeless Cabinets
No question, Shaker-style cabinets are the most timeless choice. From country cottages to modern lofts, the rail and stile look is a wide-ranging solution for any kitchen. Whether the doors are polished wood or painted, you can complete the style with your choice of knobs or handles. Available in a variety of qualities and finishes, you can get entirely new cabinets or just replace the doors on your existing ones to update the look at a lower cost. If you have custom cabinets with odd sizes, you'll either need to find a cabinet maker or if you're good at DIY projects you can try making them yourself.
Countertop Styles
Counters are the most used part of the kitchen. You probably already know to stay away from dated materials like Formica but watch out for current fad materials as well. For the longest lasting choices, go with marble, concrete or solid surface materials that mimic them. Butcher-block is also a timeless look, though it doesn't last quite as long and can require more care. The least expensive choices are usually concrete and butcher-block but keep an eye out for deals on fancier materials like quartz.
Before you start updating your kitchen for a better home value, ask your real estate agent for a professional kitchen evaluation. They can help you choose which updates make the most sense for both your layout and your budget.