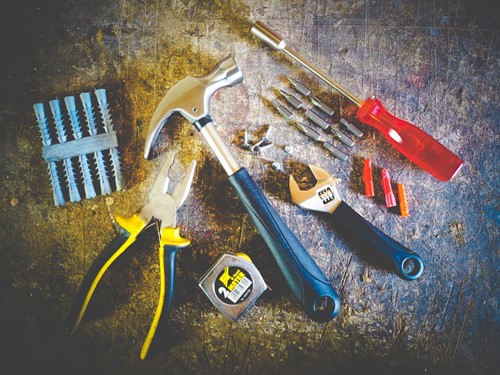 Ensuring that your home is well-maintained is critical and gives you the best chance at a solid resale price in the future. There are many maintenance tasks that can easily be handled on your own and, for those who consider themselves handy around the house, there are quite a few tasks that can be done yourself. But even for the handiest homeowner, there are some maintenance tasks that should be left to a licensed contractor. Here are three projects that should always be left to the professionals.
HVAC Maintenance
Bi-annual HVAC maintenance can help keep your HVAC system running longer, improve the energy efficiency of your home and reduce the amount of dust that accumulates on floors and furniture. An HVAC maintenance visit typically involves checking filters and parts for repair or replacement, cleaning all the components of the system and checking for any restrictions in airflow.
While this may seem simple, HVAC systems are fairly complicated and sometimes dangerous to work on. Gas leaks and electrical problems can pose potential fire risks, so it is crucial to have someone certified in HVAC repair check for and address these issues.
Plumbing Maintenance
Plumbing issues can occur for many reasons. In some homes, the piping is old, which means it could be the inappropriate size to handle the flow of water or waste. It could have also become damaged through corrosion or interference by root systems. These issues, along with seal and pressure problems, account for a large part of chronic plumbing issues. Unfortunately, many of these problems are not always apparent.
While it may seem simple enough to fix a leaky faucet or a clog if the problems recur, there is likely to be worse problems farther down the line. If you notice water where you shouldn't, repetitive leaks or constant backups, call in an experienced plumber to check your system before it results in a major issue such as backed-up sewage or significant water damage.
Roof Repairs
A vital part of your home is the roof. It not only protects your home against weather, but it also helps to keep your home insulated, making it more comfortable inside. Unfortunately, it is one part of your home that is most subjected to the elements and may need some maintenance and repairs from time to time. Leave these tasks in the hands of the pros for a couple of reasons. Working on a roof can be dangerous if you are not familiar with industry and safety best practices and could cause serious injuries if you fall. Proper materials, procedures and products should be used on your roof to prevent water from leaking in. Be sure any materials can be properly warrantied.
When you need to deal with the maintenance issues above, be sure to call in a professional to get the job done. Paying a little more for maintenance could save you a lot of money and time in the long run.